Partner up with The Green Web Foundation! We welcome hosting companies, data centers, registries and other web-organisations to become our Partner. Show that you are taking part in the transition towards a greener Internet today, by completing the certification process and displaying the logo wherever you want.
Partner privileges
On becoming our Partner, your organisation will be listed first for your country in The Green Hosting Directory, a valuable source of information for prospects worldwide looking for green Internet services.
Furthermore, by displaying the Certified Partner logo on your website and distributing the accompanying Green Web Badge to your customers, it becomes really easy to make your sustainable efforts visible to a worldwide audience. We can advise you on how to make the most out of your partnership with The Green Web Foundation!
We have compiled a leaflet where we set out the requirements and advantages of the Certified Partner program in more details, feel free to download it here below and do get in touch if you have any questions!
Leaflet on The Green Web Foundations Certified Partner Program
The partnership types
Do your Internet operations run on renewable energy and do you endorse the goals of The Green Web Foundation? Are you willing to enter the certification process, where an auditor from The Green Web checks the 'paper' trail remotely?
Great, please choose below between the following three types of certified partnerships.
Option 1: Certified partner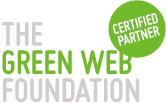 This partnership is free, apart from the certification costs (€ 250 per year). Make sure you run 100% on renewables and display the proof of your sustainable policies prominently on your website. Once the Certified Partner-logo is visible on your website with a link back to The Green Web Foundation, we will activate your certified partnership in our directory. Most suited for smaller hosters and org's (up to 25 people).
Option 2: Certified dev partner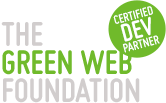 For Certified Partners who want to show their engagement with The Green Web clearly, and run not only a green website, but a completely green stack. Can you donate technical support or server facilities to support The Green Web Foundation's operations and do you think you can pass the certification process? Great! You are Development Partner material. Please contact us, prices are starting at € 1.000 per year.
Option 3: Certified gold partner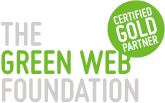 Certified Gold Partners are the best on the market! We know that for a fact, because we've checked the paper trail of their green credentials back to the source – not only from their own website, but including all connecting services (fonts, stats, forms etc). Certified Gold Partners support the efforts of The Green Web Foundation with a donation, dependent on the size of the organisation (starting at € 1.000,- per year).
Next steps
Send us an email and tell us which partnership you would prefer. We will check your organization's sustainability credentials and let you know whether you meet the conditions to become either a Certified Partner, Certified Dev Partner or Certified Gold Partner. For organizations that are not there yet but are eager to get to this stage, we're organizing remote and on-site (EU only) workshops to get you going.